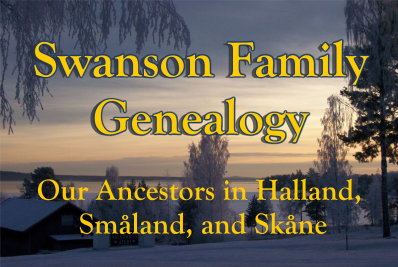 Our Relative on the Titanic:

Johan Cervin Svensson, age 14, was born March 5, 1898,  son of Sven Peter Johansson and Elisabeth Jönsdotter of Knäred, Halland, Sweden.  Johan's father and elder sister Jenny had gone to South Dakota in 1911 with the remainder of the family (sister Anna, and brothers Johan Rudolf, Leonard, Reinhold, and Gösta) planning to follow. His father sent for Johan, so he took the train from Knäred to Gothenburg, Sweden, then a small boat to Hull, England.  He boarded the Titanic in Southampton, England as a third class passenger.  As the ship was sinking on that fateful night, he was awakened by a knock on the door of the cabin that he shared with three other Swedes.  Everyone was yelling, but he didn't understand English.  Once he saw everyone donning lifejackets, he supposed he had better get one on, too.  He jumped 10 or 20 feet down into on Lifeboat Number 13 at approximately 2:10 a.m.  The Titanic fully sank about 10 minutes later.  Lifeboat 13 arrived at the rescuing ship Carpathia in the early morning of April 15, 1912.

When he arrived in South Dakota he changed his name to John C. Johnson and worked as a farmhand.   The man known as "Titanic" Johnson later moved to California where he worked as a ship welder for a marine construction company based in the Long Beach harbor, not far from the Queen Mary. He and his wife Hazel G. (Lindley) lived in a simple one story house on the corner of Termino Avenue and Stearns Street in Long Beach, not far from the infamous Long Beach Traffic Circle.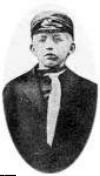 He died there on July 4, 1981.  He and his wife are now buried side by side on a slight slope in the beautiful Rose Hills cemetery near Whittier, California, which is about 20 miles north of Long Beach. His gravemarker mentions that he was a Titanic survivor.

Johan's daughter, Joy Johnson said that her father always wondered  "Why was I saved when so many others were lost?" and suffered nightmares for the remainder of his life.

There were 164 Swedish passengers on the Titanic;  only 44 of them survived.

More articles on Johan Cervin Svensson can be found here:

Encyclopedia-Titanica:  Passenger Biographies- Johan Cervin Svensson

Encyclopedia-Titanica:  Document Archive-  SD Man survived Titanic's plunge

Many thanks to those who contributed the information to this page:  Mike Herbold and all the wonderful people at the ET Message Boards, Calle Lindström, and Inga Isaksson

Photo of Johan Cervin Svensson  courtesy Red Wing Daily Republican, 29th April 1912 (Cameron Bell, Northern Ireland)

Encyclopedia Titanica: Third Class Passenger: Johan Cervin Svensson [www.encyclopedia-titanica.org] Accessed Sun Jul 28 2002 20:42:04 GMT-0400 (Eastern Standard Time).